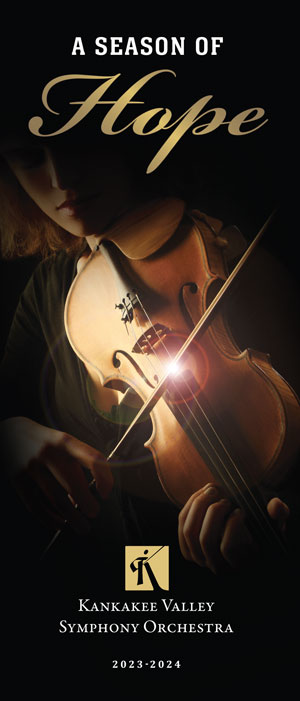 The Kankakee Valley Symphony Orchestra (KVSO) is excited to announce our 2023-2024 season with a theme of  'A Season of Hope!'
We start off on September 30 with a concert titled Hope for Acceptance and Peace. Beethoven's Egmont Overture depicts the overthrow of the Spanish out of what is today the Benelux Countries in the 1600s. The Spanish were violent in dominating the largely farm countries but it reached a climax when they beheaded the Flemish King. The uprising of the Flemish peoples to throw out the Spanish is one of the most exciting endings in all of music! The second half of the program will feature Peter Tchaikovsky's monumental Symphony #5. This is one of the most exciting of all symphonies!
Featured on the November 5 concert at Asbury United Methodist Church will be organist Kavin Sampson, in a program titled Hope for Love for All of Us. The program includes works for chamber orchestra and organ as well as love songs from Italian Operas.
December 3 brings our wonderful annual Holiday Concert titled Hope for Time with our Families. As well as the holiday sing-a-longs and fun holiday music, we will play Stokowski's fantastic arrangement of J.S. Bach's Toccata and Fugue in D minor. Don't miss the Women's Guild's dinner afterwards with their FANTASTIC collection of home-made great cakes, cookies and candy.
The KVSO Choir is featured in our February 17 concert titled Hope for Joy. This eclectic program features performances of the Morning Star Gospel Choir as well as the KVSO Choir. Music representing Bach, Hatikvah, the Prayer of Saint Gregory and Hymn of Joy, as well as Handel Anthems will have you singing as you leave the concert.
April 6 will feature youth winners of the Walgreens Concerto Competition in a Hope for Friends and Families for Tomorrow concert. The soloists will be chosen from the December 27-30 Competition, the largest concerto competition in the USA. Sir Edward Elgar's Enigma Variations – musical representations of some of Elgar's friends and colleagues – will be the main work on the program, which will begin with Carl Maria von Weber's exciting Overture to Der Freischutz.