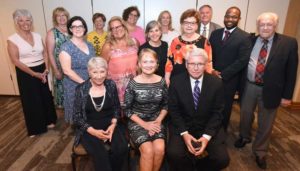 KVSO Board of Directors with Dr. and Mrs. John Bowling, recipients of the 2021 Dr. Janet V. Leonard "Con Spirito" Award.
Back row (l
eft to right): Vicky McBurnie, Barbara Schwark, Nina Epstein, Angela Shea, Katherine Cloonen and Chris Bohlen.
Middle row:
Becky Schiltz, Liz Madsen, Junell Hoekstra, Yvonne Chalfant, Jake Lee and David Jaffe.
Front row:
Lynn Ahlden, Jill Bowling and Dr. John Bowling.
President
Lynn Ahlden
Vice President
Katherine Cloonen
Secretary
Nina Epstein
Treasurer
Jake Lee
Past President
Yvonne Chalfant
Directors
Gwen Benson
Chris Bohlen
David Jaffe
Liz Madsen
Rebecca Schiltz
Angela Shea