Saturday, September 22, 2018 • 7:00 PM
A Movie Medley…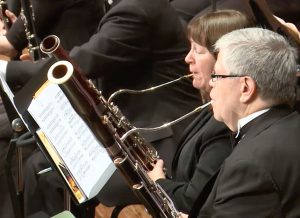 Enjoy a sampling of classical music from The King's Speech, Fantasia, Rocky and Star Wars.
Marriage of Figaro (The King's Speech) – Wolfgang A. Mozart
Night on Bald Mountain (Fantasia) – Modest Mussorgsky
Selections from Star Wars: Main Theme and Darth Vader Theme (Star Wars) – John Williams
Highlights from Rocky
Pines of Rome (Fantasia 2000) – Ottorino Respighi

The Pines of the Villa Borghes
Pines near a Catacomb
The Pines of the Janiculum
The Pines of the Appian Wa
---
Saturday, November 10, 2018 • 7:00 PM
A Movie Montage…
…with an early TV twist. Selections from Amadeus, Platoon, Raging Bull and Rodeo… and relive your child-hood Saturday mornings with selections from Carmen (better remembered as Tom and Jerry cartoons).
Magic Flute Overture (Amadeus) – Wolfgang A. Mozart
Adagio for Strings (Platoon) – Samuel Barber
Symphony 25 (Amadeus) – Wolfgang A. Mozart

Allegro con brio
Andante
Menuetto
Allegro

Selections from "Carmen" – Suite #1 (better remembered
as Tom and Jerry Cartoons) – George Bizet

Prelude & Argonaise
Intermezzo
Sequedille
Les Dragons d/Alcala
Les Toreadors

Intermezzo from "Cavalleria Rusticana" (Raging Bull) – Pietro Mascagni
Selections from Rodeo: Saturday Night Waltz (Chorale Nocturne, Hoe Down (beef commercials) – Aaron Copland
---
Sunday, December 2, 2018 – 3:00 PM
Music of the Holidays
Get in the holiday season with music from the Nutcracker Suite and other holiday favorites. The Kankakee Valley Youth Symphony will join the KVSO with a traditional tribute to the holiday season.
Nutcracker Suite – Piotr Tchaikovsky; with dancers

Overture miniature
Danses caracteristiques:

Marche
Danse de la fee-dragee
Danse russe trepak
Danse arabe
Danse chinoise
Danse des mirlitons
Waltz of the Flowers
---
Sunday, March 10, 2019 – 3:00 PM
Choral Music from the Movies and TV
Enjoy the KVSO Chorus as they join the KVSO to bring us music from Disney favorites.
---
Sunday, April 7, 2019 – 3:00 PM
A Movie Mosaic…
…welcomes The Lone Ranger, Romeo and Juliet, Jesus Christ Superstar, the King's Speech and Mr. Holland's Opus… and concludes with the theme from Spiderman.
Overture to Guillaume Tell (William Tell) (Lone Ranger Theme) – Gioachino Rossini
Romeo and Juliet Overture Fantasy (seriously, EVERY time to indicate "love") – Piotr Tchaikovsky
Jesus Christ Superstar – Henry Mancini
Symphony 7 (The King's Speech, Mr. Holland's Opus, Knowing) – Ludwig van Beethoven

Poco sostenuto – Vivace
Allegretto
Presto
Allegro con brio

Encore: Spiderman Theme