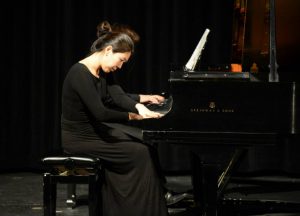 Since 1976, the Len H. Small Family has sponsored the popular Young Artists Piano Competition of the Kankakee Valley Symphony Orchestra. This competition is known as an "area" competition meaning that it is limited to those students, ages 17 – 35, who attend school in Illinois, Indiana, Iowa, Kentucky, Michigan, Minnesota, Missouri, Ohio, Tennessee, and Wisconsin. There are two goals with this competition,
To help launch the career of talented young performing artists.
To broaden the awareness of and to increase an interest in the activities of the Kankakee Valley Symphony Orchestra.
Students compete by submitting an application, application fee, and a CD of their concerto in January. The preliminary round of the competition is held in February with the selection of five finalists who then compete in the finals round in March before a small audience. Winner of the competition receives a monetary award of $3,000, the honored Grace B. Small medallion and the opportunity to perform his/her concerto with the orchestra at the April concert.
The 40th Young Artists Piano Concerto Compeition was held on March 5, 2016 in Kresge Auditorium on the campus of Olivet Nazarene University.